Do beautiful women or celebrities 'sell' in personal care/beauty advertising? Do we 'hate them because they are beautiful?' Or, do we prefer their beauty to the plainer 'real woman' ads that have been such a popular trend? What about those boring product ads? Does anyone actually read them? If you're interested in ad analysis in more categories, see our Competitive Intelligence resources page for more.
---
ABX Shares Competitive Intelligence for Personal Care Products After Analysis of Print Ads
In our review of more than 100 recent personal care print ads, we found that NONE of these approaches work consistently in this category. Of the four approaches:
(Note: Each dot in the chart below is an ad effectiveness score)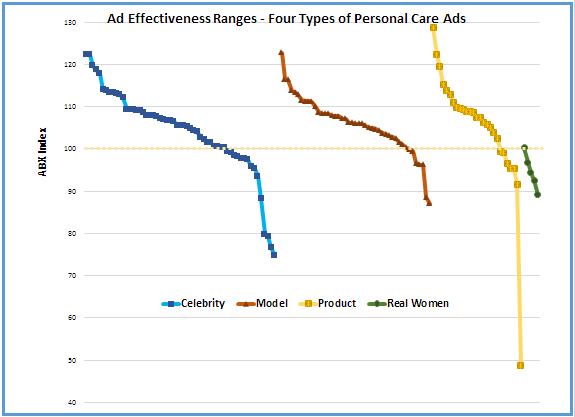 A look at the following chart shows how the various competitors stack up in ad effectiveness in print for the period. In actuality, the ads in this category cluster more favorably near the yellow 'average ad effectiveness' line than they do in many other categories.
So, what can we glean from some of these ads moving forward?
ABX Advertising Effectiveness Scores
ABX Advertising Effectiveness Scores
ABX Advertising Effectiveness Scores
As Digiday's @hilarymilnes recently reported,The Limited just launched a new "real woman" campaign. We'll be watching to see if the results! And, be watching for other ABX studies such as Competitive Intelligence for Retail, Financial Services, Automotive and more.
Free eBook - "Four Key Performance Indicators to Decrease Advertising Investment Risk & Build ROI"
Written by ABX President Gary Getto, this new eBook shares insights gained from the world's largest database of benchmarked ads. You will learn the characteristics of powerful ads and how they can better drive results.
How the ABX Testing is Done
ABX provides ad effectiveness scores from human respondents against 14 variables and in all media types. ABX Index values are a comparison of the results of an ad versus the average of all ads in the ABX database (100,000+ ads). Click for more information about definitions and methodology.